Roving Pittsburgher Report,
Put Holiday Doo Wop on Your Bucket List
by
Good News Reviewer, Marlene Reutzel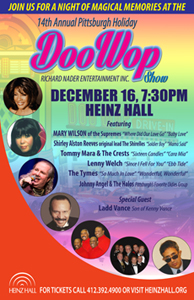 If you haven't been to a Doo Wop show, put it on your bucket list! It's an evening of pure fun and entertainment. The show at Heinz Hall was just musical magic. Presented by Richard Nader
Entertainment on Wednesday December 16th, 2015, the line up was fabulous. The program started with Johnny Angel and the Halos, a group that started in the corners of the North Side of Pittsburgh. When the signing started, the need to sing along began.
Lenny Welch's voice is still dreamy with his " Since I Fell For You" and " Ebb Tide. His moves are still as smooth as ever.
Tommy Mara has an engaging and powerful voice that immediately pulls you in to that feel good place as the lead singer of the Crests. Singing along to "Sixteen Candles" and "Step By Step" takes

you back to the music that brings back memories.
Ladd Vance is the son of Kenny Vance from Jay and The Americans. The apple doesn't fall far from the tree. His voice is wonderfully like his dads'. Singing " Cara Mia" with the Safaris was a perfect fit.
The Shirelles with the original lead singer Shirley Reeves Alston got the audience moving with " Will You Still Love Me Tomorrow" and "Tonight's the Night". Singing along was just second nature.
Everyone was singing with The Orginal Tymes to " Wonderful Wonderful". Their black and red jackets made sure your attention was focused on them with classic line dancing. Truly entertaining!
The Supremes had 12 number one hits, Mary Wilson sang quite a few of them. Aside from sounding great, she looked amazing. Her white and silver beaded form fitting gown, shows her fabulous figure and that classic look The Supremes always had. Everyone was singing to "Baby Love" and " Stop, In The Name of Love' . What a class act!
Each of the entertainers sang a Christmas song and the tribute to our military was inspiring and appreciated by the members of the audience who served.
Definitely a wonderful entertaining, completed by pictures in front of the spectacular
Christmas Tree in The Heinz Hall lobby, sponsored by HighMark.
Next time there is a Doo Wop show, throw caution to the wind and go. You won't be sorry.
Marlene Reutzel, Sales Executive for Contact One, Founder Junkpreneur.com, Consultant to those who want to turn their trash to cash.
SpecialiZing in antique furniture reclamation and refurbishing.
412-496-8293