the Family Holiday SpectaCular
23 Musical, Twirling, Juggling,
Ariel & Acrobatic Acts to
Reviewer: JoAnn R. Forrester, Empress of Biz,
TUESDAY, DECEMBER 29, 2015
FEATURING 30 PERFORMERS FROM AROUND THE GLOBE
Pittsburgh Cultural Trust"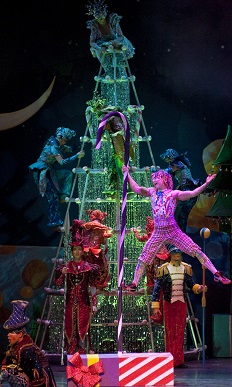 CIRQUE DREAMS HOLIDAZE
, created and directed by Neil Goldberg
presents a spectacular family night of holiday
entertainment aimed to amaze, awe and make one wonder
out loud
"How in the world do they do all the singing, dancing twisting, turning, leaping, climbing, juggling, acrobatic and aerial feats and still be smiling and ready to do more?"
The international cast of 30 performers from Armenia, Belarus, Canada, China, Ethiopia, Russia, Ukraine and the USA are extraordinary as they whirl, twist and perform almost impossible feats through 23 acts, and myriad custom changes as holiday ornaments in a 2 hour plus magical
production.
The theme, Once upon a dream, time awoke suddenly….he turned, smiled and gave a wink…and then saw the ornaments no longer asleep…sets the stage for the performers dressed as holiday ornaments to pull out all stops to perform amazing feats to entertain the audience. The action never stop, one amazing performance is finished and the next is moving right on stage. You just gotta see it to believe it! All the performers are excellent and many of the performers have been featured on America's Got Talent and similar TV variety shows in other countries.
Kudo's to all that design, produce and deliver this holiday spectacular. Cirque Dreams is also currently airing as a made for PBS television special throughout the country. The
CIRQUE DREAMS HOLIDAZE is part of a franchise by directory Neil Goldberg, who created the groundbreaking Broadway hits CIRQUE DREAMS and JUNGLE FANTASY. CIRQUE DREAMS HOLIDAZE is a circus show, a Broadway musical, a holiday fantasy spectacular and family show all in one! Look for them to go to NYC & Broadway in 2016
Great family entertainment! Amazing show with fantastic skilled performers whose
enthusiasm, talent and boundless energy generates enough holiday cheer to light up downtown Pittsburgh for a week. Truly a fabulous Holiday performance to entertain all!
Written By: JoAnn R. Forrester
Host of Empress of Biz
Anchor Internet Radio Show on PositivelyPittsburghLiveMagazine.com
JoAnn R. Forrester is co-host of the Empress of Biz Talkcast and co-founder, president and partner in S. I. Business Associates, Small Business Solutions, LLC and Celebrate and Share. She is an entrepreneur, writer, business growth specialist, teacher, columnist and award winning writer. JoAnn specializes in helping small businesses grow and prosper. She is the co-developer of the PRICE IT PERFECT™ cost management system for small business, and has secured over 40 million dollars in loans and investment for her clients.