What's Up Doc?
Review of the Pittsburgh Symphony Orchestra's Bugs Bunny at the Symphony II Performance April 12th 2014
From:
Roving Pittsburgher Report and PositivePittsburghLiveMagazine.com
Written By: JoAnn R. Forrester, Host of Empress of Biz | April 13, 2014
Saturday night April 12, was FUN! It was a night of wonderful music with lots and lots of laughs and giggles from the usually pretty serious classical music crowd. We were treated to a multi-media experience of What's Up Doc, "Bugs Bunny " cartoons, witty dialogue and great music by the Pittsburgh Symphony Orchestra very ably led by guest conductor and co-creator of the Bugs Bunny at the Symphony II, George Daugherty.
George Daugherty brings an impressive resume to the Pittsburgh symphony. He is one of the classical music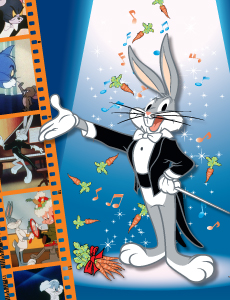 world's most diverse artists. His 3- year conducting career has included appearances with the world's leading orchestras, ballet companies, opera houses and concert artists. He is also an Emmy Award winning creator and along with his producing partner David Ka Lik Wong created The Bugs Bunny Symphony tradition. He was a delightful host. His dialogue with the audience on the background of the music and cartoons was informative with a whimsical touch. A thoroughly charming man.
One of the things I did not realize, much of the music in cartoons was based on many of the classical composers such as, J. Strauss II, Wagner, Rossini, von Suppe', Smetana, Liszt. Reading the credits from the cartoon was like a trip back in time, Jonny Mercer, William Hanna and Joseph Barbera, Chuck Jones, and Mel Balanc, the great voice of Warner Bros Cartoon. And of course the lovable wacky cartoon characters of Elmer Fudd, Daffy Duck, Porky Pig, Wile E Coyote, Tweety (I Tawt I Ta A Puddy Cat) Bird, Pepe Le Pew and the Penelope Pussy Cat were funny as ever.
George Daugherty
As the music and cartoons play I was flooded with memories of my childhood. A time when I went to the movies and was enthralled by an afternoon of cartoons and cowboy/ space invader monster/Tarzan of the Jungle. It was a simpler and less stressful time; NO cell phones, texting, and NO parents hovering over you, urging you to hurry, to rush from one activity to another. It was a time when I could walk to the local neighborhood show with friends. Go to a shopping district, that were alive and vibrant and filled with friendly people walking on sidewalks, and stopping in their favorite ice cream store, shoe store, grocery store, ladies dress store and buying what they needed. Back then, my neighborhood gave me a feeling of identity and security. If you lived in one of them you know what I mean. Today's suburban sprawl with our mega shopping centers, frantic pace and a life built around the automobile racing from one event to another has taken a lot of that sense of belonging away.
In conclusion the night was delightful fun for young to old. All delighted by the antics on screen and being charmed by the music and conductor on stage… a delightful evening… and a secret trip back in time when it was all simpler.
Additional Performances:
Sunday, April 13th | 2:30 PM | Heinz Hall
JoAnn R. Forrester
Written By: JoAnn R. Forrester
Host of Empress of Biz
Anchor Internet Radio Show on PositivelyPittsburghLiveMagazine.com
JoAnn R. Forrester is co-host of the Empress of Biz Talkcast and co-founder, president and partner in S. I. Business Associates, Small Business Solutions, LLC and Celebrate and Share. She is an entrepreneur, writer, business growth specialist, teacher, columnist and award winning writer. JoAnn specializes in helping small businesses grow and prosper. She is the co-developer of the PRICE IT PERFECT™ cost management system for small business, and has secured over 40 million dollars in loans and investment for her clients.
For more information visit Empress of Biz on PPLmag.com
Posted By: Stephanie Curtice
Good News and Cultural Reporter
PositivelyPittsburghLiveMagazine.com, RovingPittsburgher.blogspot.com, TheNewGirlintheBurgh.blogspot.com
(c) P
ositivelyPittsburghLiveMagazine.com 2014