ROOTS OF ROCK and ROLL VOL 39
by Gregg Matthis
I had the great pleasure of participating in the RoRaR show at the Benedum on February 23rd. The mostly senior crowd knows by heart most of the music being performed, so it is not just a watching show, it is a singing along show. There was an impressive line up of talent and they were all in fine form and voice for the show.
Since most of the artists were primarily vocal groups the performance of the back-up band is critical. This obligation was well served by Pure Gold's band who provided a steady but not overpowering sound supporting the singers. However, when it was time for the instruments to be highlighted, they sparkled.
Pure Gold, a Pittsburgh iconic oldies group, once known as Accapella Gold, opened the show with a rousing version of "With This Ring", which was followed with Susan DeLuca's solid cover of "Oh, My Angel" and they finished with "Hold Back the Night". While none of the songs were actually of the Doo-Wopean era, they were performed with energy and soul and got the show off to a great start.
Now, I've been an oldies officianado since they were newbies, but I have never heard nor heard of "Do You Close Your Eyes". It is apparently considered a Pittsburgh anthem. It is a beautiful song that was relearned by Josh White Jr. just for this show! Josh White Jr and has father have an amazing biography that is worth checking out.
Kathy Young was the next act and she looked much younger than 67. Her first hit "1000 Stars" was recorded when she was 14. Her voice was powerful and clear and she looked great. She also performed "Happy Birthday Blues."
One of the great things about Henry DeLuca's shows is his integrity for insuring that the acts feature the artists who were with the groups when their hits were recorded. This was the case with the Charts which featured two of the original five members and they sang "Desiree".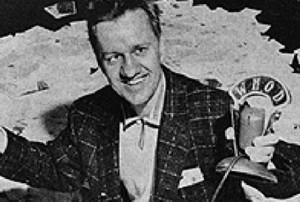 Porky Chedwick, "Daddio of the Raddio"
Porky Chedwick was introduced to a crowd who always knew him as "The Daddio of the Raddio". He had recently celebrated his 95th birthday, and while a little unsteady of his feet he was as glibe and quick tongued as we remember from the 60s. He introduced the Clovers.
Without a doubt they were the strongest performers of the evening. They were doo-wop quintet and had 79 year old Harold Winley as their anchor. Harold was an absolute charmer and can still sing quite well. They did seven songs including "Lovey Dovey", "Your Cash Ain't Nothin but Trash" and, of course, "Love Potion #9". We were treated to the rare version which included the ending verse about Love Potion #10. Their vocals were powerful and their harmonies were tight. They were a treat.
Terry Johnson and the Flamingos were next on stage. They amazingly enough have just released a new CD. They had a new member with a huge powerful voice, and sadly I didn't catch his name, and are clearly still an active performing group. They sang six numbers including the two huge hits that Terry arranged, "Lovers Never Say Goodbye" (which he also wrote) and of course the Doo-Wop classic "I Only Have Eyes for You". They sang a very cool version of Queen's "A Crazy Little Thing Called Love" which is on the new cd.
Next up were the Planotones. They aren't really from the 50's but they are true to the roots (think Sha Nah Nah). Kenny Vance was with Jay and the Americans, and so they did 3 of those hits, which included a very solid "Come a Little Bit Closer". Their vocals were tight and their showmanship excellent. They performed one of my favorite let's-get-drunk-and -sing songs by covering the Beltones "I've Had It".
The headliners of the show were Charlie Thomas' Drifters. Charlie became the lead vocalist of the Drifters after Clyde McFadder left the group in the late fifties. Their performance was slick and very well done, but I was a little disappointed. One of the elements that made the Drifters songs so good to me was their smooth but strong background vocals. While the vocals were smooth the backgrounds were a little muted. They sang seven of their many hits, and performed like an active touring group. They mixed some of their earlier work with some of the more popular hits from the early sixties. And closed the show with a strong "Under the Boardwalk".
All in all a great show. It has me looking forward to the volume 40 show. Although, sadly, Henry says that volume 40 will be the last one.
Gregg Mathis is a lifelong Pittsburgher, a musician and long time music lover. He is co-owner of Pro-Fry, Pittsburgh's Fryer Guys since 2006. Pro-Fry serves it's customers by reducing costs through micro oil filtration, reducing accidents by professionally changing oil and deep cleaning fryers, and by reducing waste headaches by immediately removing and recycling waste oil from customer locations.
(412) 720-6363