Roving Pittsburgher Report, Review
Gentleman's Guide to Love and Murder
by Joanne Quinn-Smith
Lights, action, camera, well 3-D projection and pure entertainment! That was

The

Tony® Award winner for Best Musical,"
Gentleman's Guide to Love & Murder
,"
Benedum through November 22, 2015. From the very first scene where a snapshot is taken of a group of turn of the century mourners in black to the gay entourage at the end of the performance, the show is pure musical comedy perfection. "A Warning to the Audience" sets the pace for the entire musical. "You're a D'Ysquith by Miss Shingle (Mary Van Ardel) and Monty (Kevin Massey) is even more compelling by the fact that the name is so incredibly hard to pronounce.
The plot
portrays the hysterical odyssey of Monty Navarro, a distant heir to a family whose only impediment to becoming an earl is eight cousins in front of him. Add to that one femme fatale,Sibella Hallward (Kristen Beth Williams), his fiancé and one ingenue, Phoebe D'Ysquith (Adrienne Eller), his cousin (no one seems to care) and you have an instant love triangle amidst the intrigue. Oh and there is the little drawback of possibly getting caught while he engineers their early demise. And all this is done amidst turn of the century proprieties and few scene changes thanks to modern technology that looks somewhere between cartoonish and genius but always delightful and humorous.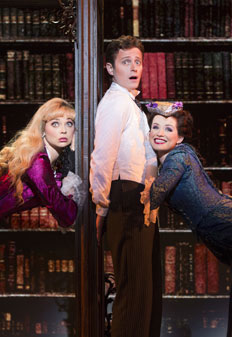 The projection designer, Aaron Rhyne adds more than his share of quality to the production with the simulation of skaters falling through ice, a cleric climbing up and falling from a church tower and splattering to the ground, complete with bloody splatter. IN A MUSICAL ON STAGE, the effect is amazing.
Despite the comedy, the musical element of the show from the live orchestra to the performers was excellent. Some of the crowd favorite numbers, "

Oh, why are all the D'Ysquiths dying?

" "I've Decide to Marry You," with the double door scene of Sibella, Phoebe and Monty is a mastery of vocal excellence and staging. And "Looking Down the Barrel of a Gun" by Lord Aldelbert and Company is excellently staged and performed.
In addition to John Rapson as the D'Ysquith heirs (all eight of them) and Massey as Monty Navarro, the cast of

A Gentleman's Guide

includes Kristen Beth Williams as Sibella Hallward, Adrienne Eller as Phoebe D'Ysquith and Mary VanArsdel as Miss Shingle.

John Rapson has to be the absolute king of musical comedy and of multi portrayal rolls. What a hoot. Kevin Massey as Monty Navarro is not only a great actor but has an exquisite voice.
There are also moments of grandeur with the chorus. Kristen Beth Williams is not only sensuous but has moments of comic genius as Sibella. Quite frankly there are too many moments of brilliance among all of the characters. It's easy to see why a Gentleman's Guide to Love & Murder is

the most celebrated musical of the 2013-14 Broadway season

.
For additional info and tickets:
TrustArts.org/Broadway
Joanne Quinn-Smith, Award winning internet radio broadcaster, blogger, author and internet radio and TV network editor and publisher. Joanne is the owner and CEO, Creative Energy Officer, of Dreamweaver Marketing Associates, a successful Pittsburgh-based marketing company. Joanne is internationally known as the "Get Your Google On" Gal. But better known as Techno Granny™ to over one million accumulated online listeners worldwide. Joanne has created a revolutionary online NEW MEDIA platform in Internet broadcasting, blogging and other social media participation. JQS is the online publisher of PositivelyPittsburghLiveMagazine.com, an online community magazine to disseminate the Positive News for Positive Pittsburghers. PPL Mag is Pittsburgh's First Internet radio and TV network with syndicated channels and online radio and TV capabilities.