What a Feeling!
Flashdance, Musical Variety at its Best!
by Good News Reviewer, Joanne Quinn-Smith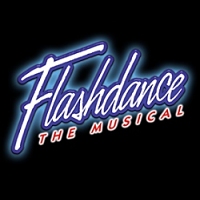 Wow, what a feeling!

It has been a long time since I saw such an intense musical where the large cast and the solos, duos, trios and ensembles were all energetic, passionate and well choreographed.

Our personal favorite, Rachelle Rack's "I Love Rock n Roll was FIERCE!

Although Alex (Emily Padgett), an 18-year-old welder at a steel mill in Pittsburgh as the heroine

made up the bulk of the story,

the three front line gals were phenomenal and a couple of times almost stole the show.

And this is not just because Rochelle Rack is from Pittsburgh.
Alex also dances at a bar, fully clothed, along with her dance buddies Kiki (DeQuina Moore), Gloria (Kelly Felthous) and Tess (Rachelle Rak).

Having frequented the go-go joints with male buddies in my younger years I must tell you that all three of these gals would have been driving their own porches even

dancing with their clothes on.

The dancing was enticing, erotic and yet artistic and even the men in the audience could not argue with that.

Kiki's (DeQuina Moore) Manhunt routine could have rivaled Gypsy Rose Lee in her heyday.

Also Gloria's (Kelly Felthous) solo before going to work at the infamous Chamelion Club was reminiscent of the Blaze Star era of big time burlesque bravado.
Alex in the musical is helped to get into the Shipley Dance Academy by her elderly mentor and teacher Hannah (JoAnn Cunningham).

For the classical crowd there is some nicely done ballet during Alex's fantasies of attending Shipley.

For the older crowd JoAnn and Alex did a very palatable soft shoe.

Hannah's character was delightfully feisty and the real deal as far as being a pioneer in the dance field and expressing the passion of dancers.

And there is even break dancing for the hip hop crowd.

Quite frankly something for everyone as in the returning genre of Variety entertainment experiencing a resurgence because of

such shows as America's Got Talent.
My question about the casting is why in the world the writers and directors saved David R. Gordon as Jimmy's singing until the latter part of the show.

What an endearing sweet voice and so surprising considering the whimpiness of his character.

His song "Where I Belong" was moving and beautiful.
The multimedia technology of the scenery was extremely artistic and matched the fast pace of this ginormous

musical using brief dance interludes to distract at the changing of what appeared to be holographs.
I have one complaint, Alex's solo before her audition was much more intense and energetic and passionate than the last audition solo.

The audition solo lacked energy and was anticlimactic but considering the pace and the number of times Alex appears in both solos and ensembles one is not surprised.

Also truly it is hard to compete with the original dance solo in the 80's movie by the same name and both the choreographers and Alex's character may have been limited by the size of the Heinz Hall stage.
However after working all day and just getting over the holiday I was concerned about entering what seemed to be a packed house on Thursday evening if I could stay awake.

Well the show kept me awake and then some.

And unlike some reviewers have hinted about the 80's nostalgia and warm and fuzzy feelings, truth is even the famous Alex sweatshirt could not make me forget that this was a totally new, totally energized and artistic production.

Also for the sake of art, do see the show because Alex's shower routine though far too brief is both classic and perfectly done.

The ensemble and cast are to be complemented for their passion and energy.

This is not sedate entertainment so be prepared to be energized and uplifted.

There is still time to see the show at Heinz Hall, 2 PM and 8 PM, Saturday, January 5 and 1 PM and 6:30 PM January 6, Sunday.
Kudos to cast producers, our Pittsburgh heart throb Nick Hurley (Matthew Hydzik) for entertaining Pittsburgh with a chic movie turned musical that could have gone in any direction but the direction it went was amazing and delightful entertainment with a capital E.

It may have been the Pittsburgh backdrop and how Pittsburgher's support both their sports artists and entertainers but I prefer to think this is Musical Variety Entertainment at its best.
Additional information and tickets at:
Radio Host and Serial Blogger, Joanne Quinn-Smith is the host of PositivelyPittsburghLive™ Internet Talkcast and TechnoGrannyShow™ On her shows, Joanne has interviewed over 1800 guests. As an advocate for small Business, she was awarded the National Small Business Administration Journalist of the Year Award. She is also the publisher of PositivelyPittsburghLiveMagazine.com which is a 2010 National Stevie Award finalist for best Media Website or Blog. PPL Mag features the GOOD NEWS, about Pittsburgh and is Pittsburgh's First internet radio and TV network. PPL Mag attracted 2.25 million visitors last year. Her radio network has accumulated over one million listeners. The Creative Energy Officer of Dreamweaver Marketing Associates, Joanne also teaches her online media platform building to small businesses in a client personalized, "Web2.0 Gorilla Branding Training™". Connect with Joanne at: http://joannequinnsmith.com