TOO BIZET TO LOVE CARMEN? PITTSBURGH OPERA CHANGES THIS ROVING CRITIC'S MIND
By Tamar Cerafici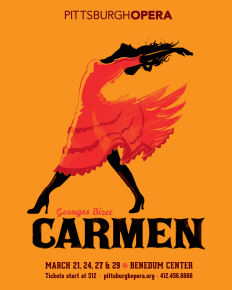 I live in rural New Hampshire. It's a hike to get to anything "artsy." So when my friend Bunbury said, "When you come to Pittsburgh, we'll go to Carmen," I sort of jumped at the chance.
To be frank, I'm not a fan of Carmen. My mother was a coloratura soprano with a specialty in the Bel Canto style, so I was raised on the works of Donitzetti and Puccini, where the mezzo soprano provides nice support in quartets, and the melodrama is all focused on the woman with tuberculosis. And I can never listen to Carmen without thinking of the Gilligan's Island "Hamlet" episode. But I was starved for culture – so of course I went.
The Pittsburgh Opera's production changed my mind about Carmen. Here is a heroine full of fire and determination, played with dark fervor by Rinat Shaham. Not a hint of a cough in site. Not one asthmatic wheeze. She is a gypsy, used to the company of thieves. This is a character that lives right up to the moment she doesn't.
I guess this production is just different from the many others I've seen, or perhaps I was paying attention. Maybe the deft casting of an intense mezzo and fine actress (Ms. Shaham is both) against a rather aggressive (as opposed to lovesick) Don José underscored the violence that most productions hide.
Michaela fends off Morales


David Bachman Photography
And this is a violent opera. Don José (AJ Glueckert) is violent man. He tells his lieutenant, Zuniga (sung superbly by Philip Gay), that he joined the army because he got in a fight with a man in his village – given his jealous proclivities throughout, one assumes it was over a girl – and he was forced to leave. José kills Zuniga to join Carmen and a band of thieves. But I wonder: did he kill Zuniga primarily because the officer had a rendezvous with Carmen? Then I wonder, what if he had to leave his village because he killed his victim in a jealous rage? Little acts of violence permeate Marc Astafan's bleak production, and they all lead to the ultimate act of violence. Carmen's world itself is violent; Carmen's murder seems a fait accompli. José is drawn to her like a moth to the flame: we know somebody's going to get hurt.
While Carmen is all fire and blood, Glueckert's Don José seemed a little pale. Glueckert's tenor is light and seemed out of proportion to Shaham's rich and vibrant vocals. On the other hand, this seems intentional, a result of Astafan's direction and not the lack of vocal skill or quality. His French diction could have been a little crisper, and he could have been more ardent in his more important arias. I applaud his effort to draw sharp contrasts between Carmen and her lover, though.
Escamillo greets the ladies


David Bachman Photography
Speaking of Carmen's lovers, Morgan Smith's Escamillo was the highlight of this production. He is a presence to contend with - the only character that seems to match Shaham's Carmen. They are perfect together. If the Pittsburgh Opera want to bring him back, I can only say: Yes, please. This was his debut performance with the company, and I wonder why it took Christopher Hahn so long to find him. I would listen to him sing the phone book, or even the editorial page of the Tribune-Review. That's how good he is.
Carmen Dances for Jose
David Bachman Photography
The supporting cast was marvelous, but artist-in-residence Jasmine Muhammad gets my vote as a standout. Micaela is a thankless part. All she does is try to save Don José and remind the lost sheep of his fold back home. She is the Greek Chorus to the larger tragedy playing out on stage, and she really has no other job except to remind us that José had some worthy characteristics at one time. She – Micaela, not Muhammad – always seems a little co-dependent to me. But Muhammad played her character with clarity of voice and urgency that rose above the part. Her Micaela was a woman of purpose.
Gypsies surround Zuniga
David Bachman Photography
On the whole, this Carmen is a production worth seeing. The orchestra and chorus do solid credit to Bizet's music. I would have really like to see a flamenco or two (in that regard, Astafan fell short of the mark). I might have wished a more impassioned Don José. But I understood Astafan's spare style, and appreciated it. Really, this is a spare opera. It is stark and lush at the same time. The Pittsburgh Opera production gets that.