40 Years of Theater; PPT's 2014 season opens with an American classic: The Glass Menagerie.
Review by Megan Grabowski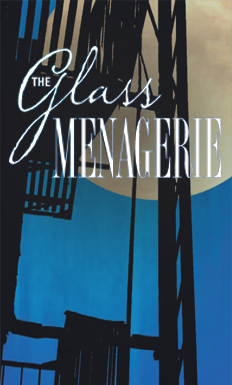 Fall has officially arrived in Pittsburgh. This means, the Pittsburgh Public Theater (PPT) is opening their doors for another season. On October 9, 2014 I stepped inside the wide windowed atrium of the O' Reilly Theater on Penn Avenue anticipating an evening of escapism at its' finest. This performance of the Tennessee Williams play The Glass Menagerie will surely clutch the strings of the collective hearts of Pittsburghers- expressly those who have supported the success of the PPT since its inception 40 years ago. Yes, that's right; this is the 40th anniversary of the PPT. What better way to commemorate the achievements of the theater than by producing, Menagerie, mirroring the theater's first season.
The evening began when Producing Artistic Director, Ted Pappas, bestowed upon the eager audience an honorable introduction, which included a gracious recognition of PNC and their long withstanding commitment, not only to the achievements of PPT but to the arts as a whole in our region. Then the lights dim-
The show begins with an overview of the period by Tom Wingfield, played by Fisher Neal. Neal, a
Fisher Neal as Tom and Lynne Wintersteller as Amanda.

seasoned actor is making his Pittsburgh debut in Menagerie. Williams writing is a vessel for Neal's eloquence. His voice grants the audience a glimpse into the lives of his family in 1937. As narrator, Neal reminds us, with the reflective and introverted tone, utilizing the intellect of a poet, that this story is not real; it is a memory and intended to be interpreted as such. The show proceeds with the remaining characters, Cathyrn Wake, as Laura Wingfield, Lynne Wintersteller staring as Amanda Wingfield and Jordan Whalen cast as Jim O'Connor. Each actor shares with the audience a moment in time, a snap chat of memory and most unfortunate, the immense cruelty and weight of disenchantment that can accompany said remembrances.
Cathryn Wake as Laura and Jordan Whalen as Jim.
The plot, centers on Laura, a painfully shy and childish young woman. She suffers from a defect causing her to walk with a pronounced limp. Tom, Laura's brother, is obliged to play the role of family man since their father left 16 years prior. Amanda, Tom and Laura's mother, is a loquacious Southern woman who possesses a parenting style which is nearly suffocating both them both. Amanda cannot accept her children for who they are. Tom, a poet at heart, works a dead end job in a warehouse, forced to, 'rise and shine' day after day, in order to earn a meager wage. Laura suffers from disillusionment and appears perfectly content to live without ambition. She spends her time tinkering with a collection of glass figurines, her menagerie, a tactic used to elude her future and any associations with the outside world. With no plans and no prospects for life on her own, Laura is at the mercy of her mother. Amanda is becoming increasingly desperate to secure some manner of care for her fragile daughter. She schemes, and then introduces Tom to a plan to find Laura a gentleman caller. Tom invites an acquaintance from the warehouse to dinner. Amanda, irrationally optimistic, believes this gentleman caller, the dinner guest, is Laura's opportunity to secure a husband. Jim O'Connor, the gentleman caller, accepts Tom's dinner invitation; totally unaware of any ulterior motives.
Fisher Neal as Tom
Wintersteller's performance as the high strung and excitable Amanda was unquestionably authentic. Amanda's incessant criticisms of her children followed by over simplified solutions to their shortcomings in rapid and continuous chitchat was as natural as any neighbor. The rate of her dialogue is sometimes disorienting yet entrancing, as lifelike a character to ever stroll a stage. Neal presents Tom as astute and withdrawn. His character personifies the struggling artist; a visionary who must break free from the familiar order in to enable the growth of his creativity. Neal naturally captures his place amidst the family dynamics through his portrayal of Tom. The arguments that swell between Tom and Amanda provoke a sense that is unique to familial conflict. His cool mannered narration preserves Laura's memory and a minute of the past, for all to take in.
Wake portrays the meek and innocent Laura. She is quiet and reserved, and very aware of the future unfolding before her. Nearly a hermit, she has no goals and no self-esteem. When Amanda announces Laura is to open the door upon Jim's arrival she is nearly paralyzed. The anguish in her voice as she pleads with her mother not make her open the door is gut wrenching. Then dinner is served. Laura is summoned to the table; she collapses in a heap onto the floor. This moment, Wake's finest scene in the play, produced gasps and compassionate sighs from the audience. It was during this scene I felt the burden of humanness. Wake's depiction of Laura awakened the memory referred to in the opening narration- Laura's display of anxiety rings true; it is something primal. Who hasn't, at one time, frozen with fear? She is petrified; stifled by her own self judgment and inadequacies. Wake's small stature helps give rise to the young Laura. Her shakiness, limp and near inaudible single word responses to Jim's inquisition further enhances the model of a weakly young woman. Whatever ails sweet Laura, Wake invokes.
Whalen, cast as Jim O'Connor, the handsome has-bin with natural magnetism, incites Laura. As a man of many talents, O'Connor excels in reading people's dispositions. It is this particular skill that he uses to begin coaxing Laura out of her shell. His voice and gestures communicate a man on a mission; he's going places. Not just in the role of Jim O'Connor the warehouse worker by day, public speaking student at night; destined for something bigger and better than the warehouse, but as a renowned actor sure to make many more appearances on stage across the country.
PPT's 3rd rendition of The Glass Menagerie reminds us, "Time is the longest distance between two places". Pittsburgh in the 1970's, and St. Louis, Missouri in the 1930's couldn't be more different, yet, the expertly attuned direction from Pamela Berlin captures the memory of the Wingfield's troubles through moving dialogue and staging. The actors make it easy for the audience to suspend their own feelings of disbelief and become swept up into the unfolding drama. But it is Williams's words which give us an honest glance into the enduring complexities of humanity.
Reviewed b
y Megan Grabowski
Professional writer, Social-Media Junkie, Community Fundraiser and Pittsburgh Enthusiast.